PRACTICAL INFORMATION
---
REGISTRATION
Registration to these events is done via Indico by ESA.
Please follow links below.
FREE of charge, no-cost event.
Coffee will be served during breaks.
Please observe that registration is required prior to event.
After registration you will receive confirmation via e-mail.
Please contact us if you do not receive confirmation.
---
HOW TO GET TO ESTEC
ARRIVING BY AIR
From Schiphol airport,
ESTEC Shuttle Bus: Schiphol – ESTEC / ESTEC – Schiphol – hotels and taxi service. See link at right.
By taxi: Journey to ESTEC approximately 30 minutes. Tell the driver you wish to go to ESTEC, located at Keplerlaan 1, 2201 AZ Noordwijk.
By train: The airport local station is accessible from the terminal building, where you can buy your ticket to Leiden Central station (15 minutes). From Leiden Central station, take bus 30 to Katwijk.
By rental car: Follow the instructions below from Amsterdam.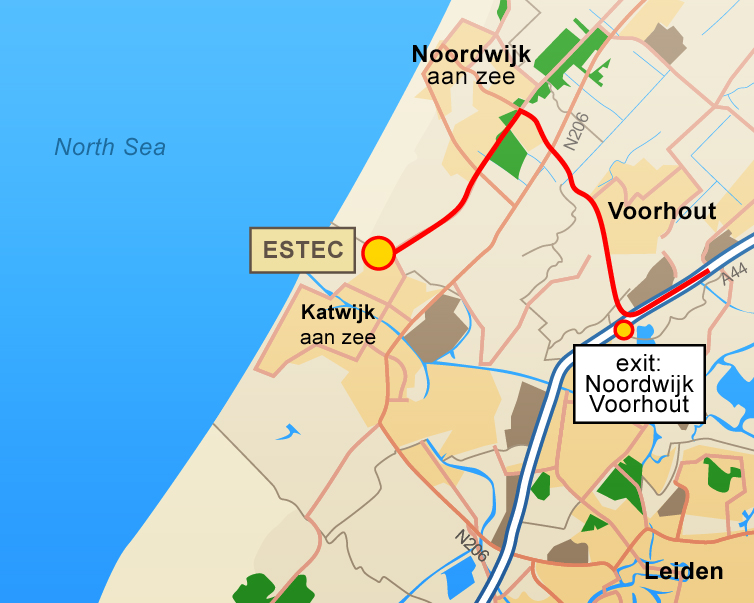 ARRIVING BY CAR
ESTEC is located at the southern tip of Noordwijk.
From Amsterdam, take the A4 in the direction Den Haag-Rotterdam, then at the junction follow the A44. Take the exit Noordwijk-Voorhout, continue to Noordwijk and from there, follow the signs 'ESA ESTEC'.
From Den Haag (The Hague), take the A44 motorway in the direction Amsterdam/Wassenaar and exit at 'Leiden' (exit 8). Follow the N206 in the direction Katwijk and Haarlem. Take the exit 'Katwijk Noord'. From there follow the signs 'ESA ESTEC' (small white traffic signs).
ARRIVING BY BUS
From Leiden Central Station to ESTEC is only 25 minutes by bus. The bus stops right in front of the entrance.
There are four buses per hour for Bus 30 throughout the day (shifting to two buses per hour during July and August). From 10 December 2017, Bus 230 is added to the peak morning schedule. Please click here to download the bus schedule (pdf).
Between 8 July – 25 August 2018, there will be extra bus services for bus 30 and 31. Please click here to download the bus schedule (pdf).
Alternatively, you can take Bus 90 from The Hague Central, which stops at the 'Schorpioen' bus stop. To get from this bus stop to ESTEC is only a five-minute walk.
---
CONTACT